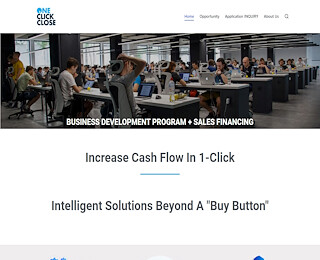 Entrepreneurs and small business owners have experienced, during 2020 and 2021, one of the most significant challenges of all time. The coronavirus pandemic has decimated consumption in many places and put people and businesses in economic distress.
That is why now more than ever, it is necessary for small businesses to have highly effective yet easy to implement and use tools to protect their cash flow.
The need for a solid business financing plan is not new, but it has grown exponentially over the last couple of years in the United States because competition levels are now so high and because consumers have more and more access to different options in the marketplace.
This is mainly what we at One Click Close had in mind to create the best financial programs for small businesses. The main difference of our solution with other similar programs is that we managed to centralize everything in a platform that anyone can use without specialized technical requirements. But of course, our solution also has other differential advantages that put us at the forefront. Let's see what they are:
Simplicity
With One Click Close, you have access to a funding platform for small businesses that prioritizes user experience and functionality. In a single dashboard, you will find all the tools you need without having to navigate through a complex interface to do what you need to do.
Our dashboard is the secret weapon of the best-performing sales teams, and best of all, you can start implementing it as soon as you finish onboarding our platform.
Expert team
Our team has a wealth of experience that is hard to find elsewhere. We have collectively managed over $2 billion in capital to grow different types of businesses, and we know exactly how to solve the most pressing needs of small business owners.
All of our years of experience have allowed us to design a comprehensive program for entrepreneurs to take control of their business finances, whether it is a traditional business trying to grow or a new startup trying to get investors.
The best option for your customers
With our system put in place in your business, you benefit and your customers as well. 
Your shoppers will enjoy a payment experience that is fast, secure and allows them to access different financing options.
In addition, your customers will be able to access these financing options without necessarily having to have strong credit scores. 
Our platform allows you to handle transactions up to $20K without the need to screen your customer's credit record.
At the same time, our platform protects you and your business from chargebacks and other risks.
Implementing One Click Close in your business is clearly a win-win situation for your company and your customers.
If you have a business in the United States and manage a high-quality average ticket, our services are perfect for you! Please note that to get the most out of our program, your business must already have a lead generation and sales closing system in place.
Fill out our 90-second application if you are a coach, entrepreneur, expert, influencer, or course creator in the US: https://www.oneclickclose.io/application-submission. 
Financial Programs Business New York
OneClickClose.io
2122347767
160-04 Cross Bay Blvd
Queens
NY
11414
View Larger Map
We welcome your comments!